Comprehensive Tournament Scheduler
Consider Everything, Never Miss On Anything!
Handle every aspect of your tournament such as Participants, Teams, Venue, Court, Timings & Availability while scheduling.
It's fun to have all your tournament variables under control. Manage them all with ease.
Fixtures

Fixture Types - Knockout, Round Robin, Group Playoffs & Custom

Player Seeding

Seed players by your standards with a simple drag and drop.

Tournament Dates

Alter match dates for your tourament. Choose specific dates on which you want to schedule your matches.

Match Date & Time

Choose match start and end times for the event. Manage match duration and break time between each match.

Multi Venue & Multi Court Scheduling

Assign specific venues and courts for each event. Edit the time for each court and venue. Have absolute control over schedule.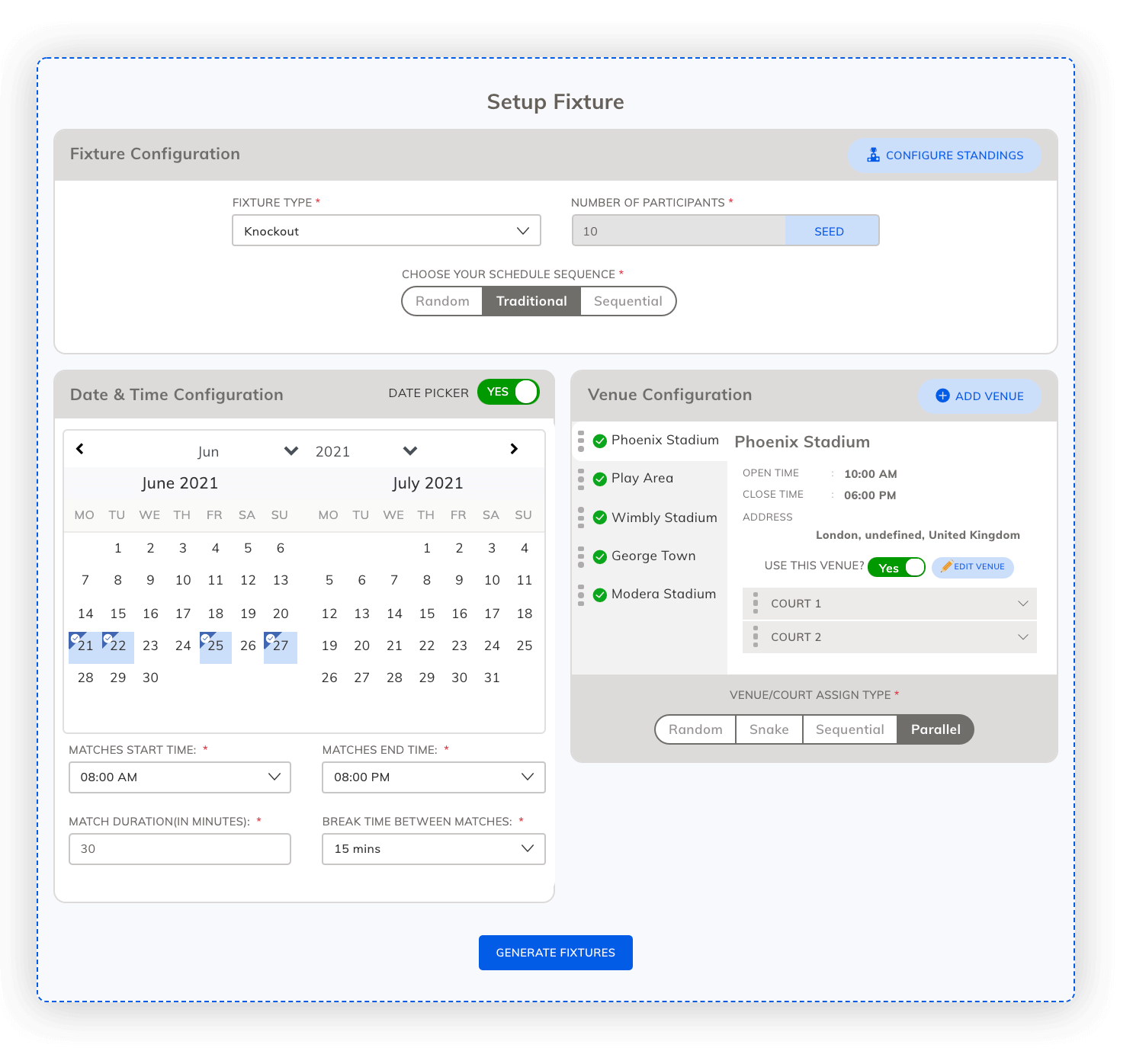 Tournament Schedule Generator
Effortless Way To Generate Tournament Schedule!
Schedule hundreds of matches in couple of clicks while we check for conflicts such as participants playing in two matches in too short of a timespan or two matches at the same court. View all your matches in a calendar, and leverage drag-n-drop features to alter the tournament schedule effortlessly.
Have absolute control over player positions, seeding placements byes, draw display options and much more.
Playoffs / Knockouts / Brackets

Round-robin

Groups + Playoff

Custom Fixtures

Playoffs / Knockouts / Brackets

Single Elimination Brackets For You To Knock It Out Of The Park!

Assign participants into braackets where the winner advances to the next round until the finals. Seed the participants and choose one of the sequencing formats from random, snake or sequential.

Elegant bracket design

Optional third-fourth place match

Up to 128 participants/teams

Round-robin

Round Robin Fixture, made simpler!

Each participant contends with every other participant. Control the number of rounds, organize matches in a click!

Groups + Playoff

Complex on paper,
breeze in TOURNEYSOFT!

Assign particpants into as many groups as you want. Each participant faces the other in a league format. Have the top rakned participant move to a single elimination bracket. Let the best player win!

First stage: round-robin groups, final stage: playoff brackets

Custom number of qualified per each group

Design in advance qualified starting positions in final stage bracket

Custom Fixtures

Tailor Made Scheduling!

Have complete control over each match by manually scheduling all the matches for the first round as and when participants register and have top ranked participant proceed to the next round. Create multiple such rounds.

Ideal for tournaments with on-the-spot registrations.
Let's Put Up A Great Tournament Together!